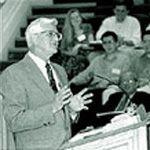 Joseph Martin, M.D., Ph.D.
Edward R. and Anne G. Lefler Professor of Neurobiology, Emeritus
Joseph Boyd Martin, M.D., Ph.D., Edward R. and Anne G. Lefler Professor of Neurobiology, served as Dean of the Harvard Faculty of Medicine from 1997 to 2007. Born in Bassano, Alberta, Canada in 1938, Dr. Martin received his premedical and medical education at the University of Alberta, Edmonton, earning the M.D. degree in 1962. He completed a residency in neurology in 1966 and fellowship in neuropathology in 1967 at Case Western Reserve University in Cleveland, Ohio, and received his Ph. D. in anatomy from the University of Rochester in 1971. Dr. Martin began his career in academic medicine at McGill University in Montreal, where he eventually became Chair of the Department of Neurology and Neurosurgery in 1977. In 1978, he joined the faculty of Harvard Medical School in Boston as the Bullard Professor of Neurology and Chief of the Neurology service at the Massachusetts General Hospital. In 1984, he was appointed the Julieanne Dorn Professor of Neurology at Harvard. Dr. Martin's research focused on hypothalamic regulation of pituitary hormone secretions and on application of neurochemical and molecular genetics to better understand the causes of neurological and neurodegenerative disease. In 1980, he established the National Institute of Health sponsored Huntington Disease Center without walls. Early work in the Center led to a breakthrough in identifying a genetic marker near the gene for Huntington's disease; this culminated in the identification of the gene for the disorder. In 1984, Dr. Martin played a key role in establishing the Massachusetts Alzheimer's Disease Research Center. Dr. Martin began his tenure as Dean of the School of Medicine at the University of California, San Francisco in 1989. He served in this role for five years. He was then Chancellor of UCSF for four years, until returning to Harvard Medical School in 1997. During his tenure as Dean of the UCSF School of Medicine, he established the W.M. Keck Foundation Center for Integrative Neurosciences dedicated to combining studies of the brain and behavior, the Gladstone Institute for Virology and Immunology dedicated to AIDS research, and began planning for a Comprehensive Cancer Center. As Chancellor there he prepared a long-range development plan for the renewal of the campus, obtaining a commitment from the City of San Francisco to expand the UCSF Campus to a second major site in Mission Bay. During his ten years as Dean of Harvard Medical School, Dr. Martin continually sought to further the mission of the Medical School: "To create and nurture a community of the best people committed to leadership in alleviating human suffering caused by disease." In 1999, he helped to establish the Dana-Farber/Harvard Cancer Center, an innovative collaboration which brings together seven Harvard-affiliated institutions intent on diagnosis, prevention and treatment. In 2001, with the support of an anonymous donor, Dr. Martin formed the Harvard Center for Neurodegeneration and Repair, a decentralized community of over 500 neurology and neuroscientist faculty and researchers working together to convert neuroscience understanding into treatment and prevention of a vast array of neurodegenerative diseases. In 2003, Dr. Martin dedicated Harvard Medical School's New Research Building. This 525,000 square foot structure is the largest building ever constructed in the history of Harvard and is designed to cultivate scientific collaboration between the basic and clinical sciences. With Dr. Martin leading the effort, the Medical School made a significant commitment to the emerging field of systems biology by creating the Department of Systems Biology in 2003, one of the first department-level systems biology programs in the nation, and the first entirely new basic science department at HMS in over 20 years. Dr. Martin is the author or co-author of more than 300 scientific articles and reviews, and is a former editor of Harrison's Principles of Internal Medicine, a widely used medical textbook. He has served on the editorial boards of the New England Journal of Medicine, Annals of Neurology, and Science. He is a member of the Institute of Medicine of the National Academy of Sciences and chaired the Institute of Medicine's (IOM) Committee that led to the development of the Human Brain mapping initiative, an ongoing research activity supported by several federal agencies. Dr. Martin was also a member of the Council of the IOM, concluding two terms in 2002. He is a Fellow of the American Academy of Arts and Sciences, a member of the American Association of Physicians and a member and past president of the American Neurological Association. Dr. Martin was awarded the AAMC Abraham Flexner Award in 1999 and has received numerous other national and international distinctions throughout his career.